Craigslist NYC Apartments for Rent By Owner
August 21, 2023 | 9 minute read | the RENT BETTA team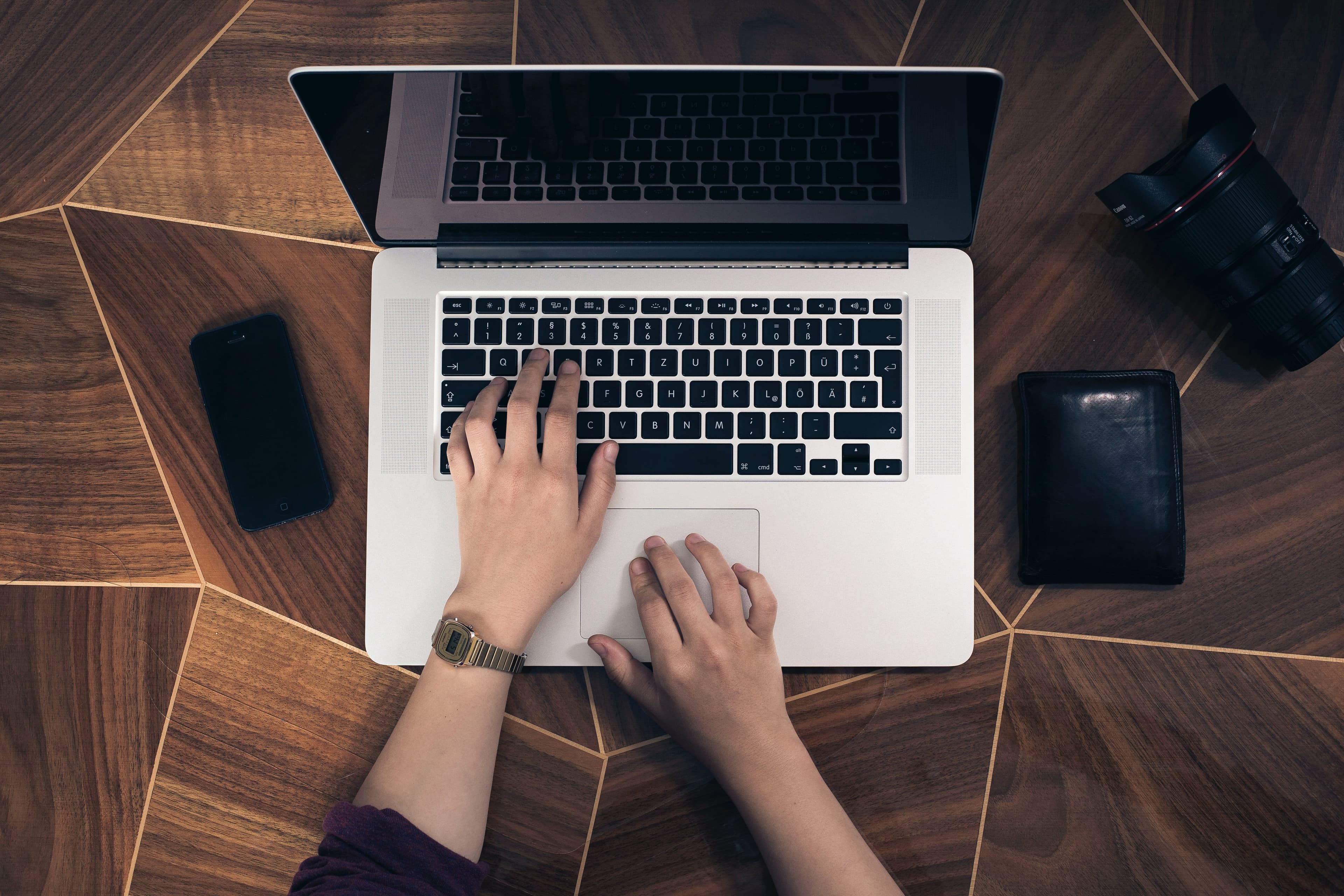 Looking to rent an apartment in NYC?  
Craigslist's no broker fee page is one of the most popular ways to find an apartment in NYC without the cost and hassle of working with a broker.  
Here's how to find an apartment for rent-by-owner on Craigslist, popular scams to be on the lookout for, and other sites to find no fee apartments for rent directly from building owners.
What Are
NYC Craigslist Apartments for Rent By Owner?
A few years ago, Craigslist had three options in their Apartments / Housing for Rent section in NYC:
1. All apartments (includes by-owner, no-fee broker, and fee broker)
2. All no-fee apartments (includes by-owner and no-fee broker)
3. By-owner apartments only (no brokers)
The last option (by-owner apartments only) was the best way to avoid pesky brokers and outrageous broker fees, promising to show you only apartments available directly from the owners or and property managers.
However, brokers would still often post their listings in the "By-owner apartments only" section as Craigslist did limited checking.
Unfortunately, Craigslist has entirely removed the option to select for rent "By-owner".
Maybe it was too popular?  Or they simply gave up trying to remove all the flagged broker listings?
Either way, we're now stuck with the second best option, selecting "no broker fee" apartments and then manually sorting-through anything that looks like it's posted by a broker or is a fake listing.
We're still after the same gems of the NYC rental market: no fee apartments available directly from property owners, managers, or leasing offices (not brokers).  These "direct" deals don't have the added cost of or difficulty of working with a broker, so the apartments are typically cheaper and the listings more accurate.
How to Find
NYC Craigslist Apartments for Rent By Owner
Go to NYC Craigslist Apartments and select the box "no broker fee" in the search column towards the bottom left, highlighted here: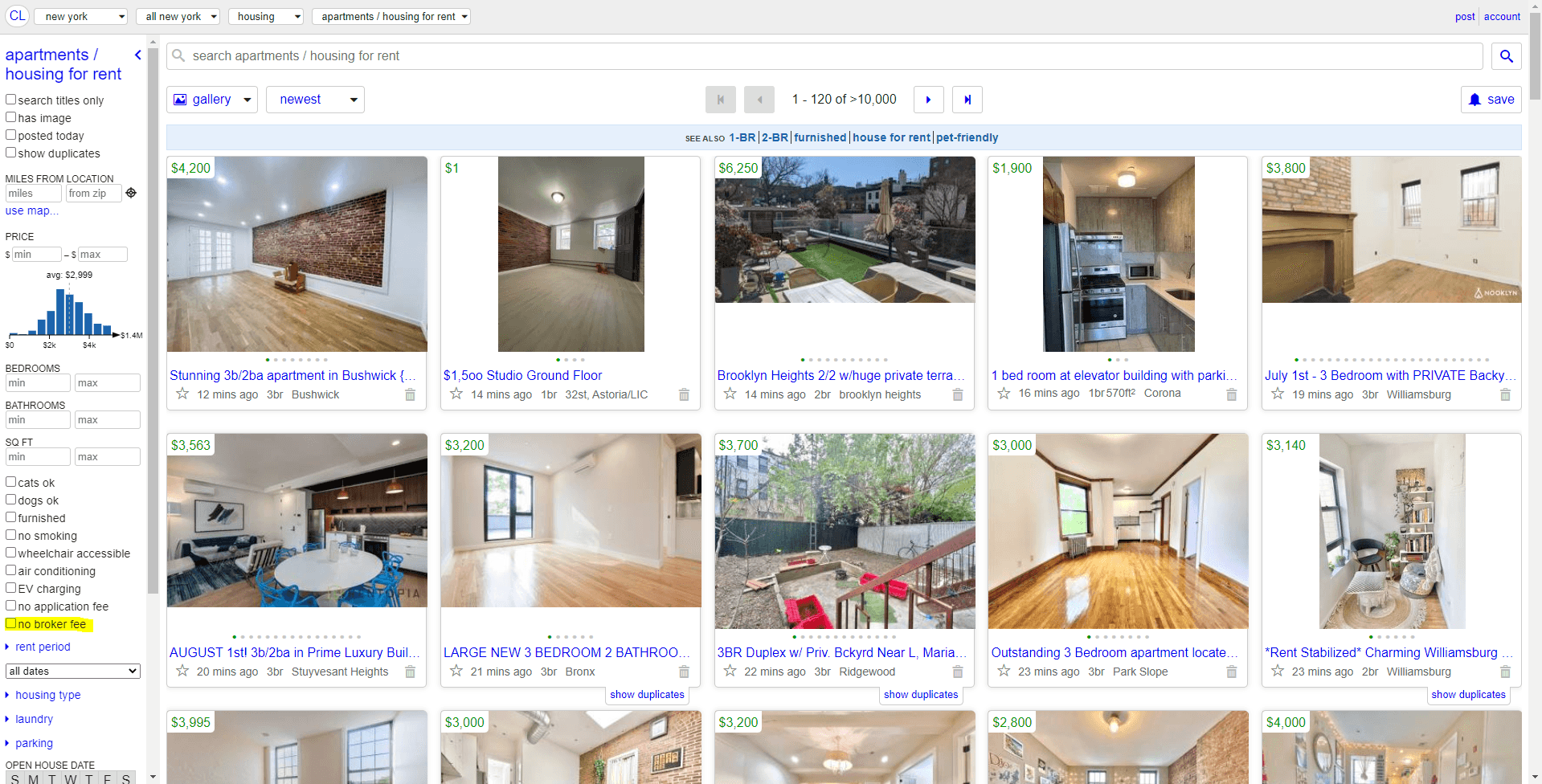 Check the box for "no fee" highlighted near the bottom left to see "no fee" options in
NYC Craigslist Apartments
This will give you everything someone who has paid a full $5 to post on Craigslist has self-selected as no fee, including:
Fake apartments that don't actually exist (brokers often post these to generate "leads", even though they have no matching apartment to show)

Apartments brokers advertise as "no fee" though they may try to collect one from your or the landlord later, often by taking a free month of rent

Actual no fee apartments available for rent directly from owners or property managers (the gems of the NYC rental market!)
The third option is the most valuable – real apartments currently available for rent that truly have no broker fee.  All others are a waste of time.
Skip past anything that looks like it's posted by a broker, which typically include tell-tale watermarks of a brokerage logo in the photos, or have broker contact details in the description.  
Highly-formatted, cookie-cutter descriptions are another clue the listing comes from a broker, rather than being directly from a landlord.  Large brokerages sometimes use an API to fill Craigslist with formatted listings.
What you're looking for are recent, real listings from "mom-and-pop" landlords.  These are the owners of many of NYC's walk-up buildings, and they won't charge you a broker fee. 
Why For-Rent-By-Owner Apartments Are the Best No-Fee Apartments
Brokers like to sell you the idea "either you pay a broker fee outright, or you will pay one through higher rent."  
But this isn't true.  If you work with a broker, yes, you will be either cutting them a check for the broker fee when you submit your application, or you will end up paying higher rent as the landlord passes the cost of them paying the broker fee on to you.
After all, brokers are not charity organizations, and they don't work for free.  So if you are working with one, expect a 1-2 month fee to be coming out of your pocket, either directly or indirectly.
Look for no-fee, for-rent-by-owner apartments.  These are the best deals in the NYC rental market.  Since you rent the apartment directly from whomever owns the building, you don't pay the added cost of working with the broker, either through a direct broker fee or indirectly through higher rent.
So now that you have skipped past what are the obvious broker listings on Craigslist, reach out (preferably with a yahoo email address you just setup and a disposable number) to see the remaining apartments you like.
Hopefully, they're real, and are available for rent as described.
Common Scams in NYC Craigslist Apartments for Rent
If we're talking about the positives of Craigslist, we should also talk about the negatives.
And that's scams.  There are lots of them on Craigslist, though fortunately, they fit into common patterns that make them easier to spot once we know what to look for.
Our list of the Top NYC Craigslist Apartment Scams
From years of renting in NYC (and getting fleeced or near-fleeced a few times), the RENT BETTA team has come up with our list of the top scams to avoid while hunting for apartments on Craigslist:
Demands for immediate cash payment before seeing an apartment, typically via wire transfer (you'll be sending money abroad based on a nice listing, while there isn't actually any available apartment to rent)

Apartments that exist and you can tour but are priced far below market (the broker or landlord may be charging hundreds of people a $20 application fee, and pocketing the cash)

Bait-and-switch listings (they can't show you that apartment…but hey, they've got another one just like it!)

Fake landlords (current tenants are posing as landlords, and the lease you sign isn't actually legitimate - only the Managing Agent or Officer of the building should countersign your lease)
Experienced NYC renters are familiar with these scams, and know there is a big difference between all the attractive listings shown online, and the actual inventory of apartments available for rent.
You may find 5-10 apartment listings that look compelling - each with nice photos, typically marked as "no fee", and at price points which seem like a real bargain.  Heck, they even look like a great deal over your current apartment. But reach out to see these apartments and schedule a few tours, and you get hit with a much different reality.
The apartment listings aren't actually available, or if they are, look much different in real life than the photos in the listing.
So why the big divergence between what you see online and what's actually available?
A Quora user breaks it down well.
Quora's #1 NYC Craigslist Apartment Scam
One Quora user described NYC Craigslist apartment scams, and the head-scratching difference between what's show online and what you find in real life:
"I've lived in NYC apartments for almost 8 years. It's generally one of several options:
It's a scam, straight up. They come up with a story to scam you out of two or three months of rent without an actual apartment. ("I'm traveling right now but if you wire me the money I'll send you the key.")

They're flat-out lying about the rent, the availability of the apartment, or even the existence of the apartment. ("Oh, that apartment was JUST rented out, but here are my other listings. The rent is only 5x more!")

They're cramming in more people than should legally be allowed in there, e.g. putting 2 or 3 people in 1 bedroom, "converting" the living room into a bedroom, etc.

It's actually nowhere near Manhattan but they list it in the Manhattan section and/or include Manhattan neighborhoods as keywords to get more views. You see TONS of apartments that are actually in Jersey, Long Island, Westchester, or even CT listed as Manhattan apartments."
Craigslist's Own List of Top Scams to Avoid
Craigslist details common scams that you should be on the lookout for.  In short, never sign a lease or send payment before seeing the actual apartment:

Streeteasy for Rent By Owner Apartments - Less Than You Hoped For
NYC apartment search behemoth Streeteasy does have a for-rent-by-owner section for landlords to post listings, but the site delivers less than you as a renter may be hoping for.
Streeteasy is the most expensive option for landlords to post listings, $6/day the last we checked, or about $180 per month.
Craigslist, on the other hand, is only $5 per month.
So while landlords or property managers can post their for-rent-by-owner listings on Streeteasy, few do, as they have much cheaper alternatives to find renters.
That means you will find few for-rent-by-owner apartments on Streeteasy.  It's mostly just brokers (charging expensive broker fees) who can afford to post on Streeteasy.
In short, Craigslist is a better alternative than Streeteasy to find for-rent-by-owner apartments, because it is cheaper for landlords to post there, so more do.
Just don't forget to avoid the scams!
Other Sites to Find No Fee Apartments for Rent by Owner in NYC
Craigslist is a good option to find no fee, for-rent-by-owner apartments from small mom-and-pop landlords in NYC.
And major apartment search websites like Streeteasy, RentHop and PropertyClub mostly have listings from brokers (so expect a lot of broker fees or fake broker listings).
Are there any other ways to find no fee apartments for rent directly from leasing offices or building owners in NYC, without a broker or their added fees?
RENTBETTA.com is a new startup that connects renters with all the leasing offices in NYC that let you rent directly their apartments directly from them, bypassing a broker altogether.
In fact, brokers aren't allowed to post on the site, only verified property managers and building owners.  This eliminates fake broker listings that plague other NYC apartment search websites (we're looking at you, Streeteasy, RentHop, and PropertyClub).
Every listing on RENTBETTA.com and has buttons to book a tour and apply.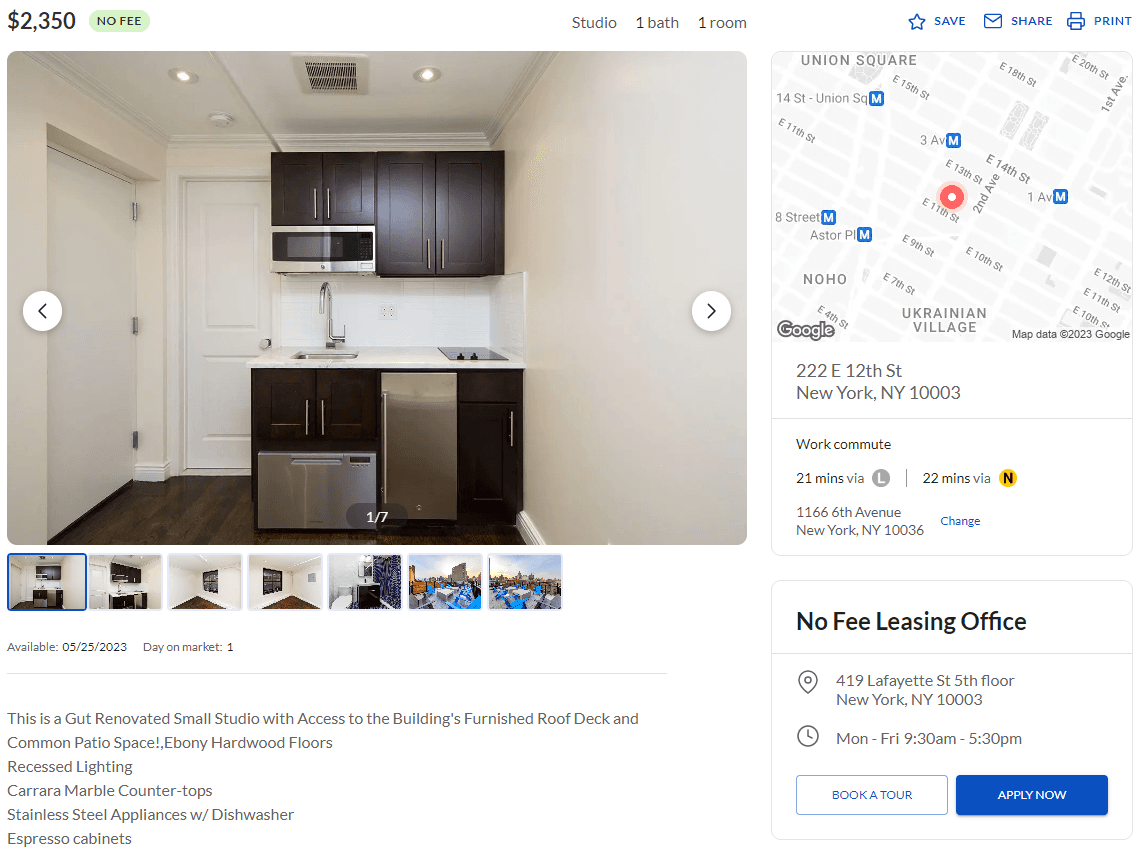 Book a Tour and Apply directly with leasing offices using two buttons on every listing on
RENTBETTA.com
Each office works a little differently, so we connect you however their office is set up. Some property managers have online portals to tour and apply, others use a popup, and some still rely on email. We'll connect you with them in whatever method they use, so you may see a popup with their email address (and a handy draft message) or you'll be linked to their website. We'll always connect you directly to the building owner, and never have to pay a broker fee. You'll never be connected to a broker.
Want to apply?  Click Apply Now and you'll be connected directly with the leasing office's online application portal or a pdf with instructions on how to submit it with supporting documents.
RENTBETTA.com is an easy way to see all no-fee, direct from owner apartments on one site, rather than scroll through fake listings or other apartment scams online.
Conclusion
No fee, for-rent-by-owner apartments typically offer the best deals in the NYC rental market, and Craigslist's no fee NYC apartments / housing for rent page is a good hunting ground, though you're going to have to sift through a lot of (fake) broker listings and scams.  RENTBETTA.com is another good option to find for-rent-by-owner apartments, and has nearly every apartment you can rent directly from a leasing office in NYC.  Major apartment search websites like Streeteasy, RentHop, and PropertyClub are mostly filled with broker listings, which means you may waste a lot of time (and potentially money) in your apartment search.