8 Tips to Save Money Renting in NYC
September 8, 2022 | 13 minute read | the RENT BETTA team
New York City is expensive.
Is there any way to make it cheaper?
Find a no fee NYC apartment on RENTBETTA.com and save thousands of dollars in broker fees.  If you moved here during the summer, get on a cheaper winter lease by joining a sublet for a few months, then sign a 12 month lease in January or February. Never sign an 18 month lease! Look for a rent-stabilized apartment if the rental market is weak.  Book movers at least 3-4 few weeks in advance on the date you plan to move, even if you haven't found your new place yet. Get your security deposit back by following our tips. Buy as much furniture as you can at Ikea, not Safavieh. And shop on Walmart.com to save hundreds or thousands of dollars for odds and ends compared to your local Duane Reade.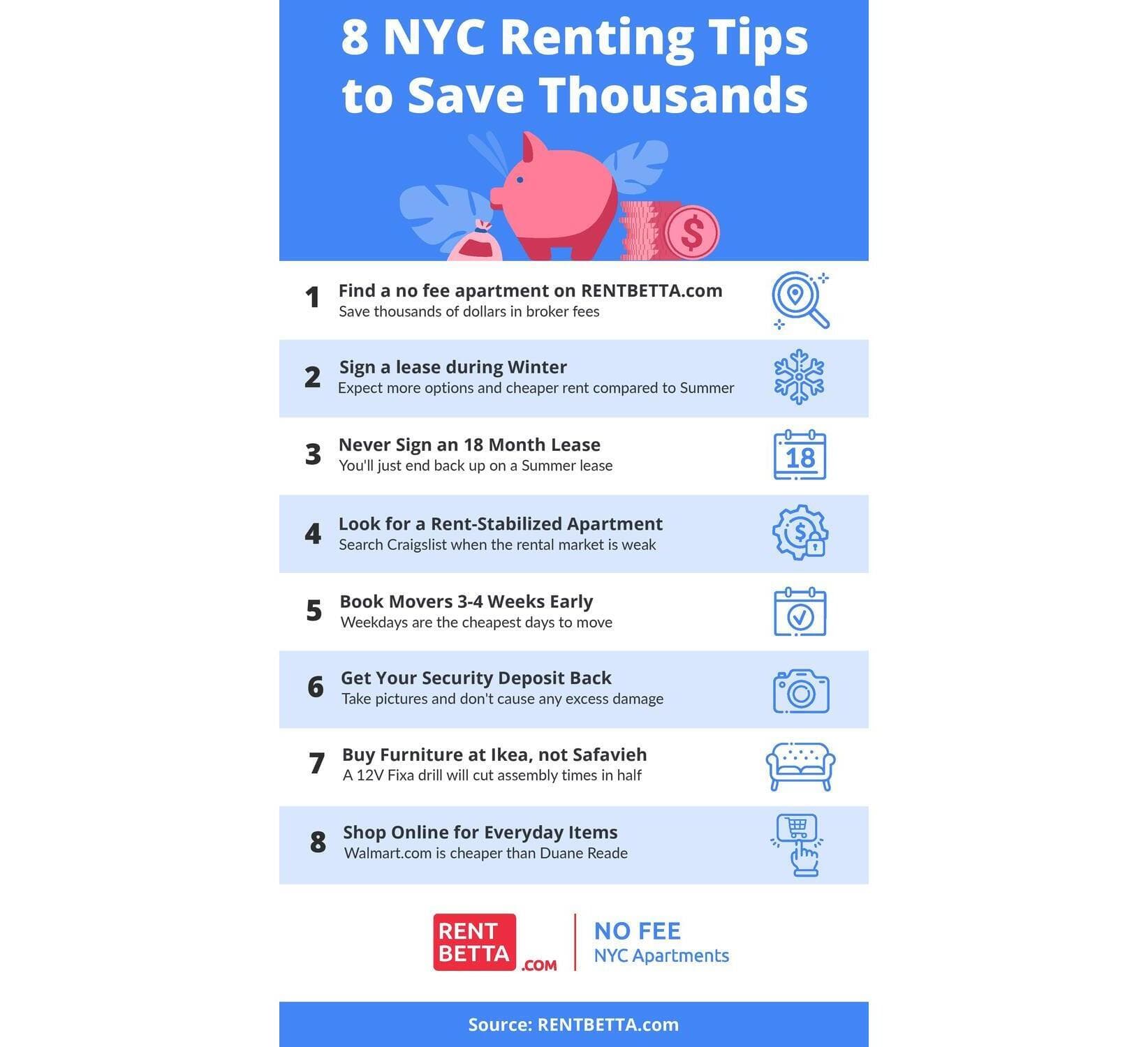 1. Save thousands of dollars in broker fees by finding a
no fee apartment
on RENTBETTA.com
Some are helpful, some are pushy, but nearly all charge a 1-2 month fee.
Welcome to the world of NYC real estate brokers.
Streeteasy and Craigslist have a "no fee" option, but brokers like to post fake listings on there to generate leads, so what you see may not actually exist.
If it's posted by a broker, they're almost certainly getting paid a one month fee by someone, if not you, then maybe the landlord.
To get the best deal possible, you want to find an apartment available directly from the building owner or leasing office, without a broker?
So how do you find these gems of the NYC rental market?
You could try pounding the pavement in the neighborhoods you want to move to, knocking on doors to see if there are any availabilities in the building, or ask your friends who there management company is, and see if that company has a website that lists apartments.
Or you could just go to RENTBETTA.com.
We've walked (nearly) all the streets of NYC, and checked every property record (twice), and found all the large and medium sized management companies in NYC that let you rent directly from their leasing office, without paying a broker fee.
Their are dozens of these companies, and their listings of no fee apartments are on RENTBETTA.com.
For any listing on RENT BETTA, you will connect directly with the leasing office to book a tour and apply, not a broker.
So you'll never have to pay, or put up with, a broker.
The best part, besides no broker fees?
All the listings come from real building owners and property managers. That means you won't waste time scrolling through fake listings like you do on Streeteasy and Craigslist, which are filled with fake listings from brokers.
Sure, some listings on Streeteasy and Craigslist look like great deals, but ask to see them and you'll rarely hear back. These nice-looking apartment ads are posted by brokers to collect your contact information, so they can show you other, pricier apartments.
So don't waste money on a broker fee or time on fake listings.
Check out RENTBETTA.com to see live, no fee rentals from dozens of property managers.
2. Sign a Lease During Winter
You'll live in the apartment all year long, paying rent each month.
But if you signed a lease during the dead of winter rather than the peak summer months, your rent could be 10-15% cheaper for the exact same apartment.
Think about it, why pay more for the exact same thing?
The cheapest month to go apartment hunting is typically January, when it's cold, snowing, and no one else is looking.
This means less competition for you as a renter.
Apartment prices will be at their lowest, inventory will be at its highest, and landlords will be their most flexible.
Buildings that may only have 1 or 2 availabilities during the summer could have 4 or 5 open apartments for you to choose from during winter.
You'll have more time to find the perfect place. During the summer, attractively priced apartments may rent the first or second day they hit the market. During winter, you could have a week or two to make up your mind after you see the place (if you see something that's really good, though, we recommend you take it asap, because other renters will eventually find out it's a good deal, too).
And if there's room to negotiate, the building owner will be more eager to make a deal.
In every way, you'll be better off signing a lease during winter.
A 12 month lease starting February 1st may be the absolute best lease schedule in NYC, though a 12 month lease beginning any time December through February is attractive.
Try to avoid a lease that ends in the middle of the month, as more inventory will be available for you to choose from with the normal lease cycle at the end of the month if you need to move out.
So if you need to move in during the middle of the month, ask for a pro-rated lease that ends 12 months and a couple weeks, so that you get on a month-end lease cycle.
While prices bottom in January and February, they tend to creep up as the weather warms in March and April.
In May through September you're in the peak Summer season, when new interns and analysts arrive, peak tourist demand hits for AirBnB's, and students begin arriving back for their fall semester.
All these eager renters eat up inventory, leaving you with less to choose from and higher prices.
October and November are shoulder months coming off peak Summer demand, with rents starting to fall noticeably in December before reaching their bottom in January and early February.
Best time to rent: January or February
Lowest Winter demand period and best time to rent
Worst time to rent: May through September
Peak Summer demand season and worst time to rent
Are you stuck on a bad lease schedule?
If you moved to New York City during the Summer (like most people), you may be renewing your lease or looking for a new apartment at the worst possible time.
And you may be doing it year after year, throwing lots of money away as extra rent in the process.
So how do you get out of this situation?
We've got a secret to share, and while it costs some cash and difficulty upfront, it can pay off handsomely over time.
Ready?
Here it is: when your lease ends during the summer, join a flatshare on Spareroom or a Facebook housing group (NYC Rooms and Gypsy Housing are good) for a few months. Then move out in January or February and sign a 12 month lease. 
Voila! You have now gone from a Summer to a Winter lease schedule!
The cost: 1 additional move (your time, effort, and the cash needed to hire movers or rent a van).
The benefit: more options apartment hunting and lower rent for every year you live in New York City.
Say your moving costs are ~$1,000 (roughly the cost of movers for a 1 bedroom) and your rent is $2,500.  A 10% rent savings from signing a lease in the Winter vs the Summer, will save you $250/month, or $3,000 annually.
Plan to stay in NYC for a few years?
The benefits multiply.
That $3,000 annual savings becomes $12,000 if you stay here for 4 years, or 6x your initial investment from the extra move into a flat-share.
600% in 4 years. That's pretty darn good. You just beat all those hot shots down on Wall Street by a mile.
No one likes moving, but if you have more flexibility than stuff, this can be one of the shrewdest moves you make as a NYC renter.
3. Never Sign an 18 Month Lease
If you're already on a Winter lease schedule, stay on it! 
Your rent is set at the lowest point in the annual cycle, and if you want to move out, you'll have plenty of options to choose from on the rental market.
You'll be in a great situation and love it. But you know who won't?
Your landlord.
That's right, you're landlord would really prefer it if your lease ended during the Summer.
That way they could increase the rent to a higher, Summer rate, and easily find another tenant during the peak demand period if you can't come up with the extra cash.
Enter the 18 month lease.
It's a gimmick offered only during the Winter to move tenancies from a Winter to Summer lease schedule.
Typically, the 18 month lease will be offered at a slight discount to the 12 month lease rate.
It looks like a deal, because the monthly rent is a little less than the 18 month lease, but you never want to take it.
If you do, when your lease comes up for renewal the following Summer, you can be sure to see a dramatic increase in your rent.
From our experience, the Summer-Winter difference is about 10-15% more.
And don't expect complaining to your landlord will get you any sympathy or a lesser rental increase.
After all, you've been getting a great deal the last 18 months.
And it is now officially over.
So when a broker offers you an 18 month lease, just remember - it's a trap!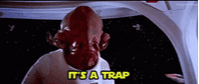 Admiral Ackbar would never sign an 18 month lease in New York City
4. Look for a Rent Stabilized Apartment if You're Here When Everyone Moved Out
Like the rest of the country, New York City has been through a number of crises.
In 2001 there was the 9/11 attack, in 2009 the Great Recession, and in 2020 the first wave of COVID hit.
About one crisis every 10 years.
And each time, for health, safety, or economic reasons, people fled New York City.
We're not advising you to leave or stay, but if a major calamity hits and you end up staying when many of your friends are moving out, you should look to move out of your current place and into a rent-stabilized apartment.
These are great deals with significant benefits for renters, like guaranteed renewals and rent increases set by the Rent Guidelines Board (RGB).
In the recent past, these annual rent increases have been set at or below inflation.
Because they're such good deals, it's nearly impossible to find a rent-stabilized apartment during "normal" conditions on the rental market.
No renter wants to give them up, and if someone does eventually move out, the apartments will rent almost immediately.
During past crises, rent-stabilized apartments started showing up on Craigslist 4-6 months after a major shock, as it takes a few months for leases to end and excess rental inventory to build up.
Then, they tend to be offered at rents a little above market-rate apartments of similar size and quality.
You may think you're slightly overpaying, but that's shortsighted.
When life returns to New York City and new renters come flooding back, rents on market-rate apartments will jump back up.
After COVID, rents increased 30-50% for many renters who got pandemic deals in market-rate apartments.
But the rents for rent-stabilized apartments barely budged, as increases were limited by the RGB.
So if you're here during the worst of times, grab one of the best deals possible, and look to move out of your market-rate apartment into a rent-stabilized one.
Tip: if you're hunting for a rent-stabilized apartment on Craigslist, do your due diligence. Sometimes, brokers use misleading language to draw interest, like saying a "building is rent stabilized."
This is actually meaningless.
It doesn't matter if a building has rent-stabilized units in it, what matters is if the apartment you're moving into is rent-stabilized. A single building can have both market-rate and rent-stabilized apartments.
So how do you know what you're getting?
To be in a rent-stabilized apartment, you must sign a rent-stabilized lease.
Ask whoever posted the ad if you'll be signing a "legal rent-stabilized lease" before seeing the place, so you don't waste your time or get duped into a broker bait-and-switch (they're common). 
The first page of a rent-stabilized lease should look like this.
A true rent-stabilized lease will have a header from the State of New York Division of Housing and Community Renewal and describe the maximum legal rent.
A market-rate apartment will not describe the maximum legal rent on the first page, as the landlord can set the rent at whatever price they choose.
5. Book Movers 3-4 Weeks in Advance 
Your apartment search may come down to the last few days, but  don't wait until then to book movers or a moving van!
You could run out of options.
If you wait too long, there may be no more van rentals and you may have to pack your entire life into the trunk of a cab and take numerous trips (this almost happened to us).
Instead, book movers or your moving van at least 3-4 weeks in advance during the Summer, or least 1-2 weeks in advance during the Winter.
First, find your ideal move-in date, and get a reservation for that date.
Then, find the right apartment, and choose the move-in date you've already reserved. Most buildings allow a move-in any time up to 14 days after lease signing.
The best days to move are a random day during the middle of the week, when fewer other people are also moving and you still have a weekend to unpack.
A Saturday or Sunday, especially near the end of the month, will book up quickly in advance and often have higher rates.
Most places will let you cancel a reservation for free. But if you wait too long to reserve movers or a van, you'll give up the option value of having the reservation, and may be unable to book anything!
So book a few weeks ahead of time, choosing a weekday towards the end of the month when your lease is up.
6. Get Your Security Deposit Back
It's an entire month's rent.
To get it all back, don't cause excess damage and take photos when you move in and out.
When you arrive at the new apartment use your cell phone to take pictures of everything, especially any points of damage, before moving in your furniture and boxes.
That way, if your landlord claims damage when you move out, you'll be able to provide time-stamped photos showing it didn't come during your tenancy.
Likewise, when moving out, take photos of the empty apartment right before you close the door for the last time, especially any points of damage.
If the landlord claims a deduction, you'll have your own record of the damage so they can't overstate it.
Before you move out, spackle any holes in the wall until they are flat and leave the apartment broom-swept clean (a provision likely stipulated in your lease).
In NYC, landlords have 14 days to either return your security deposit in full or give you an itemized list of deductions. 
If on the 15th day after your lease ended your landlord has not given you an itemized list of deductions, technically, they must return the full security deposit to you.
This 14 day requirement is part of the New York State 2019 rent law known as HSTPA, which gives renters a lot of benefits.  Landlords in New Jersey aren't subject to it, so you may have to wait longer to get your deposit back if you're across the Hudson.
7. Buy Your Furniture at Ikea, Not Safavieh
Check out Ikea online, their studio in Midtown East, or their full size store in Red Hook, Brooklyn (off the A/C or F trains) for the full experience (Swedish meatballs included).
Ikea stores are great for inspiration and to take pictures of items you may want to buy, while we recommend ordering online afterwards so you don't have to lug everything home with you.
For every category of home goods, Ikea has the lowest prices, so buy as much as you can there before looking elsewhere for nicer, pricier things.
Also, buy a Fixa drill or 20V drill and hex set on Amazon (~$60…don't forget the hex set!) and cut Ikea assembly times in half!
The savings in time and frustration are well worth the cost. Buy the Ikea Fixa drill and save yourself a ton of hassle.
Most renters in NYC make multiple trips to Ikea. You'll easily make up for the ~$50 purchase price in a few hours of time saved, and you'll always have the drill in the future.
In increasing order of price, Bob's Discount Furniture has a location on E 117th and there are Raymour and Flanigan's through New York City if you're looking for pre-assembled furniture. 
For higher quality pieces, try West Elm or CB2.  We're not fans of Restoration Hardware, which we consider overpriced for the level of quality.
Whatever you do, avoid the high end galleries in Chelsea and Midtown East which charge thousands for a simple couch and never seem to have many shoppers in their showrooms.  If you buy something there, your money will just be going towards their overhead, not the quality of the piece.
8. Buy What You Can Online
NYC retailers have to pay NYC rent, which means everything they offer is typically more expensive.
Walmart.com is a whole lot cheaper than Duane Reade or the bodega around the corner from you, where an emergency run for just a couple of things easily racks up to $20-30.
Over time, those paper towels, toothbrushes, and various odds-and-ends really add up on your credit card bills.
And when you move into a new place, you tend to need a lot of odds-and-ends.
That's why we're huge fans of Walmart.com, which seems to be using a different currency than what we commonly encounter in NYC, with much smaller amounts requested for the same items.
Amazon is great for convenience and their Whole Foods delivery prices (from Amazon Fresh) look to be just a little bit cheaper than Trader Joe's (which we still love).
Whatever you need, if you can buy it from one of the online behemoths (Walmart or Amazon) and have it delivered, you'll probably get it at a cheaper price than what you'd pay at a nearby retail store in NYC.
"Shop local" may sound nice, but it's also an ad campaign promoted by a credit card company. You work hard for your money, and have a right to spend it wisely. We prefer "shop inexpensively."
Conclusion
You can save a lot of money renting in New York City!  Find a no fee apartment on RENTBETTA.com to save thousands of dollars in broker fees. Join a flat-share for a few months and sign a 12 month lease in January or February when rents are cheapest, which could be 10-15% below Summer rates. Never sign an 18 month lease!  Look for a rent-stabilized apartment if you are here during a crisis.  Book movers at least 3-4 weeks in advance, and get your security deposit back by not causing excess damage.  When it comes to furniture, Ikea and a decent drill will save you a lot of time and money. Finally, for all the odds-and-ends you need, Walmart.com is a whole lot cheaper than Duane Reade. Happy renting!